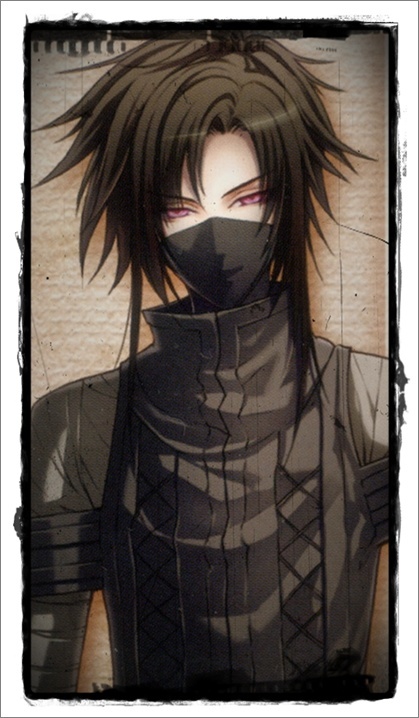 First Name:
Xantrex
Last Name:
Tanaka
Race:
Human
Gender:
Male
Age:
21
Height:
5'11
Weight:
137
Birthday:
December 31
Relationships:
Both parents are dead after being killed by a group of mercs
Province:
Igneus, Land of the Scorching Sun
Level:
1
Element:
fire
Specialization:
Sword, poison, whips, knives,fire magic, chains Blacksmith and Mining
__________________________________________________________________
Personality:
Xantrex is a closed book he doesn't talk unless he needs to talk, he doesn't like perverts and he doesn't like men who force women. He doesn't like to take off his mask. He speaks his mind when it seems that something is going to get him killed, but other than that he keeps to his self.
Motivation:
Xantrex motivation is to restore his family clan after the extermination of them. Xantrex wants to become the ultimate assassin. Xantrex wants to master every weapon he can get his hands on making him a weapon specialist. Xantrex is straightforward with what he wants to do and why it keeps him motivated. Xantrex wants to find the perfect assassins to join him and revive his dead clan.
__________________________________________________________________
Starting Stats
Health:
15
Magic:
10
Stamina:
10
Strength:
10+2
Agility:
10
____________________________
Weapons:
13
Hand-to-hand:
2
__________________________________________________________________
History:
Xantrex is the last survivor of the Tanaka guild of assassins. Who died when they were invaded by a rival group of mercs who was hired by a rival group of assassins. Xantrex was only six when this happened leaving him to find a place to stay. Xantrex lived in his abandoned Clan house. Xantrex was taught his self to hunt and assassinate animals selling them to people for profit so he could eat and fix his clan back up to their former self. The Tanaka clan was beginning to fall from the regular assassin into mercenaries killing people in public for money and anything that could bring them money. The clan was split in half by his mother and father who took his followers who wanted to become assassins and mercenaries into the woods were he built a hideout, but they all get slaughtered when they enter the hideout getting killed by the rival assassins. Xantrex mother told him about how his father was killed by the rival assassins and that since their numbers of family was low. Xantrex was twenty when he branded his self with his Brand Zess on his arm which is XX.
RP Sample:
Xantrex sat in his ruined building looking at a alter Xantrex was praying at his mother's alter as she was the only one who taught him everything he knew about the assassin business. Xantrex purple eyes stayed on his mother grave until he heard someone coming down to his mother special grave pulling out a kunai he walks into the shadows looking as a bandit comes into the area trying to steal from his mother's grave. Xantrex walks in the shadows as the bandit grabs as much as he could unaware of Xantrex. Xantrex grabs the bandit by the head snapping his neck and putting the stuff back on his mother's grave.
FaceClaim/how you found us
Source:
Google
Face Claim:
Original Artwork
__________________________________________________________________
Last edited by Xantrex on Sat May 18, 2013 11:27 am; edited 6 times in total